Antiquing furniture is a process of painting techniques that can make any piece of wood look old or worn.
Giving your furniture an antique look will give it a touch of character without diminishing its quality. There are many antique painting techniques you can try, but this article will outline the one that I've found to work the best.
Always begin any painting project in a well- vented area to prevent any dangerous fumes from entering your lungs.  A pair of painter's gloves is probably a good idea too.
Step 1. Sanding
To achieve the best results it is always better to sand the entire piece of furniture to a nice smooth surface. Check out this article on refinishing wood furniture for a detailed outline of sanding and stripping techniques. If your antiquing furniture goal is to only create wear and tare on certain spots, sanding the entire bookshelf, table, chair, sofa etc. is not necessary. Try thinking of places on the furniture that would normally receive excess use and keep your sanding preserved for those spots. Corners, knobs, handles, and other areas of typical human contact are usually a good start. Before moving on to step 2, make sure the piece of furniture you have chosen is completely dry and wiped clean of any excess dust.
Step 2. Prime
When starting any painting job it is a good idea to pick a good prime to achieve the best results.
Apply the first coat over the areas of the furniture you wish to antique. The prime color will show through slightly, so it is recommended to use a darker color, preferable an oil-based one like the Rust-Oleum 207014 Marine Wood and Fiberglass Primer 1-Quart. Latex and water-based primers are decent, but I would only recommend them if you absolutely cannot paint in a well-ventilated area.
Note: Latex and water-based primers are also slightly better for the environment.
Step 3.

Antiquing Furniture With Paint Using a Crackle Finish
Painting with a crackle finish is the easiest method for antiquing furniture and is often the most effective. When antiquing furniture with paint it might be a good idea to practice on a sample piece of wood before you begin. You don't want to go through that awful sanding process again do you?
Begin by applying a crackle finish to the areas of the bookshelf, sofa, chair, table etc. that you want to refinish. For smaller projects, the best selling Delta Ceramcoat Crackle Medium, 8 oz. is your best bet. If you're tackling a larger project, the Golden Crackle Paste – 128 oz, Crackle Paste would be a better deal. It looks like a white paste and should be applied sparingly. If you are working on a smaller project, like a jewelry box or flower pot, the crackle paste can be applied in one sitting. If a larger project is your goal, tape off any areas you do not wish to paint and work on one area at a time. Again, depending on the size, decide if a brush or roller will you give better results. Once the finish has dried, usually about 45 min, prepare to apply the topcoat of paint. Your window to apply the topcoat is very limited, it's important to make sure you're around when it dries.
Note: This is the antique painting technique that I have found to work the best. There are many different methods.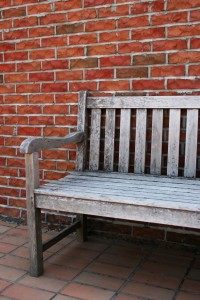 Step 4. Applying the Topcoat

Now comes the tricky part, applying the topcoat. You can use a sea sponge or a paint brush to apply this coat, but you must move fast! A sponge will give you a more random and skinny crack while a paint brush will produce much bigger ones. You can expect a paint brush to produce cracks in the direction that you used to brush. If you are painting a large surface, like a desk or bookcase, a paintbrush is going to work the best. Start in a corner and move on immediately after the topcoat has been applied, remember you need to move quickly! Once the paint has been sponged or brushed onto the surface, the crackling process will start almost instantaneously. If you go back and apply more paint you will just make a huge mess of things.
Step 5. Cleanup and Finishing Touches
Clean up any newspapers and masking tape you have lying around and wait for the topcoat of paint to dry. Also make sure to wash any paintbrushes clean of paint to avoid running them.
Some people prefer to add some dings and scratches when their done antiquing furniture. You can use tools such as a screwdriver head or pliers to create these, but a plethora of household items will work. These marks tend to show up better depending on the type of topcoat and primer you decided to use. Again, test everything out on a small piece of wood before beginning on a project of this magnitude. You wouldn't want to mess up your brand new piece of furniture.