Crackle painting is one way to antique furniture and give it an old worn look. It can be done from the comfort of your  home with only a few tools and paint supplies. Please follow the steps below to learn how to crackle paint furniture.
1.) Strip off the old paint. Before crackling the old paint must be removed. Please see our earlier post for detailed instructions.
2.)   Apply primer. Sand the furniture until smooth and then put on 2 coats of primer.
3.)   Choose two colors. Choose the color that you would like your crackles and topcoat to be. It is advisable to use two contrasting colors or use a darker shade of the same color for the base coat.
4.)   Apply base coat. After the primer dries, put on 2 layers of your base coat. These layers, which are the ones that show through the cracks, are best painted using latex paint.  Let dry for a day.
5.)   Apply topcoat. For the topcoat, you have two options: to use a crackle medium solution or Elmer's school glue.
a.) Elmer's® school glue. When using Elmer's® glue, simply apply a relatively thick layer and let dry until barely tacky. Mix colored paint with some glue with the ratio 2:1 and then paint over the nearly dried glue. When the glue dries, it will constrict and give the crackle paint effect on your furniture. Make sure that you don't use latex paint for this because latex paint doesn't crack. The amount of paint and glue used will determine the amount of crackling. To know how your finished product will look like, experiment on other pieces of wood first.
b.) Crackle medium. Crackle medium is a clear liquid that is available in any paint store. This is applied onto the furniture so that cracks are made in the final coat. Wait for it to dry before putting on the final coat. This will generally take up to four hours but anything after that may affect the effectiveness of the medium. In this case, choose acrylic or any water-based paint for the final coat because gloss or semi-gloss do not crack well. The final coat can be applied using a sponge or a paintbrush. Using a sponge will give you small hairline cracks that go in every direction while using a paintbrush can give you bigger cracks that usually follow the direction of your brushing. The cracks are also affected by the thickness of your paint. Applying thick paint will make the cracks bigger while thin paint will make them smaller. For small pieces of furniture, you can apply the crackle medium all at once.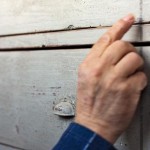 One important thing to note when applying the final coat is not to paint over an area that has already been painted. This will only cover the crackles, making it less attractive.
6.)   Apply clear finish. Once the topcoat has dried, you can protect your furniture with a clear finish.
Although the steps in this how to crackle paint furniture article may seem easy, you can still make mistakes. Always practice on a small piece of wood or foam first before attempting the crackle on a piece of furniture.
Crackle painting can give your home a new look and feel. It may be quite expensive to crackle paint furniture with a professional, so why not try it yourself first? This would be a great project for those who love do-it-yourself projects!