Finishes are used to protect your furniture or to make them look beautiful. There are many different types of finishes that you can use on different kinds of furniture. It is important to know the differences between them because some finishes won't work well on some types of furniture. This article talks about the differences between enamel vs. lacquer.
What Is Enamel?
Enamel is one type of finish that is durable, attractive, and low maintenance. It can be used over old finishes and can cover small damages. Most furniture is covered with satin enamel finishes that come in high-gloss, semi-gloss, and matte forms.
Enamel, especially shiny enamel, should only be applied on smooth surfaces with undercoats. Otherwise, it may emphasize the flaws in the furniture. It is also not advisable to use enamel over wax surfaces.
If you are refinishing furniture, you won't need to strip anything to apply enamel. You should, however, smoothen and clean the surface using sandpaper and a tack cloth.
There are four major types of enamel:
oil-based
alkyd
acrylic-based
water-based
Oil-based enamel hardens faster than water-based enamel but it has more odor and takes more time to dry. Among the three, alkyd-based enamels are the best to use on furniture because they are more durable and more elastic so the finish can expand or contract in different temperatures. They are also better at sealing, which means that there will be less rusting and rotting. If you still choose to use oil-based enamel though, make sure that you apply oil-based or shellac undercoats first.
What Is Lacquer?
It is not easy to determine the difference between lacquer vs. enamel. Like enamels, lacquer is also durable and can come in different forms: high-gloss, satin, and matte. They can also be clear or can come in many different stain colors.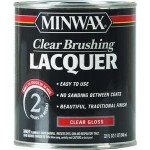 It is dries faster than any other finish for wooden furniture and is often considered the best finish for wood. However, it gives out strong, harmful fumes that can be detrimental to your health. Because of this, it is important to use it only in well-ventilated places. Lacquer has been used by the Chinese for many centuries. It can be used on any wood with the exception of mahogany and rosewood because the oils from these kinds of wood will bleed through. Make sure that you apply lacquer only on surfaces that are pre-coated with fillers that are lacquer-based and non-grain-raising (NGR). Applying it on surfaces that are pre-coated with other kinds of fillers will only lead to the dissolution of the fillers. Also use shellac, thinned lacquer, or a lacquer-based sanding sealer as sealer for the finish. Make sure that you apply a heavy coat on the first application because over-brushing or keeping the coats too thin may cause some problems.
There are three types of lacquer:
Nitrocellulose is relatively cheap and easy to dry. It offers a protective layer and is easy to repair. Furthermore, the hard film that it makes rubs out well. However, it may also cause some cracks and it may yellow over time.
Acrylic lacquer, on the other hand, was made to solve these yellowing problems. They usually go on clear and remain like that over time. The most widely used acrylic lacquer is CAB-acrylic. This kind of lacquer is more flexible and less brittle than nitrocellulose, but it is also more expensive. It dries fast and is usually used as a topcoat so that the furniture will have better wear tendencies and become more scratch resistant.
Finally, water-based enamels are easy to clean, have less odor, and have less chemicals than the other kinds of enamel.
Amateur refinishers should not use lacquer!
Enamel and lacquer are two types of finishes that are commonly used on furniture. You don't have to worry about picking between enamel vs. lacquer because each have their own advantages and disadvantages. Which of them you should use really depends on the kind of furniture that you are going to work with.
You can read more about lacquer at:
Thanks for reading!