Clamps are very important tools in woodworking. In fact, they are often considered an extra pair of hands. Learning about the different clamps for wood can make woodworking much easier.
C-Clamps
As its name suggests, C-clamps are metal clamps that have the shape of the letter C. Usually made of steel or cast iron, these clamps are versatile and can be used in many different projects. They are available in many different sizes, and have strong grips on the materials they are clamped to. This strong grip may dent wooden pieces, so it is advisable to use cardboard or a thin piece of wood between the pieces and the clamp. Over tightening the clamp may bend its sliding handle and affect its performance, so it is best to avoid this.
Hand Screws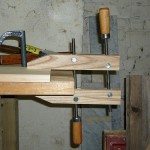 Hand screw clamps, one of the oldest types of woodworking clamps, are generally made out of wood. This makes them better for woodworking because they won't dent the project pieces like metal clamps do. Hand screws clamps are extremely versatile and can be adjusted to hold odd shapes and uneven pieces. The pressure applied to the pieces may vary according to the requirement of the project; it can either be gentle or hard. Hand screw clamps also come in many different sizes, ranging from a jaw opening of 3 inches to an opening that is greater than 10.
Spring Clamps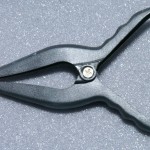 Spring clamps, also known as pinch clamps, are one of the easiest and simplest clamps that you can use. Similar to a clothespin, all you have to do is squeeze them open, clamp them on your project pieces, and release. They are made of either plastic or metal and their jaws are usually protected by pads so your pieces won't get damaged. Spring clamps cannot be clamped on thick pieces since they can only open up a few inches. They are, however, very useful in clamping things that are supposed to be glued together. They also come in different sizes.
Specialty Clamps
There are many other types of clamps for woodworking, most of them not really needed on basic projects. These clamps are specially designed for specific projects such as building frames, clamping corners together, etc. Specialty clamps include:
Web clamps
Frame clamps
Wooden cam clamps
Corner or miter clamps
and more
The functions of these clamps are generally implied by their names. Frame clamps, for example, can help you draw all four pieces of a frame at once. At the same time, equal pressure is exerted on all four corners. These affordable clamps can make it a lot easier for you to assemble a cabinet door, picture frames, and other similar projects.
Bar Clamps For Woodworking
Aluminum Bar Clamps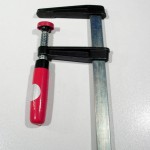 Aluminum bar clamps are the perfect clamps to use when gluing up large projects. Like iron pipe clamps, they provide superior strength. However, unlike the former, the aluminum alloys that they are made of make them very light. This makes it easier to move the clamps around the project without fear of damaging it. Also, unlike iron, aluminum doesn't react to certain glues which means no stains will form on the wood. It is also easy to work with them because their screws are equipped with butterfly handles. This allows you to operate it using only one hand. The clamp can also sit upright, which means you can place work on top of it.
K-Body-Type Bar Clamps
K-Body clamps are the ideal choice for high pressure or 90-degree clamping. They are equipped with large, parallel, square jaws that can distribute pressure evenly across the surface of your project. The clamps, which can tighten with twist-type handles, slide on rectangular steel bars. The jaws come with removable protection caps that can resist paint, glue and solvents. Their handles are large and resistant to slips, which makes the clamp easier to tighten. It also includes rail-protection pieces, which protects your project by keeping the glue away from the rails. K-body clamps are available in different sizes but none of them come cheap.
Learning about these basic clamps for wood can help you a lot in your woodworking projects. There are many other types of clamps available but most of them are for specific, more advanced projects. Keeping one or two types of these clamps around the house would definitely be beneficial to you because your wooden furniture will most likely need repair at one point or another.