Learning how to construct wood joints is very important not only for wood professionals but also for do-it-yourselfers. Every wood project needs a wood joint at one point or another. It would therefore be very beneficial to know the different types of wood joints and how to construct them in case you want to make your own wooden furniture or if an existing one gets damaged.
Half-lap joint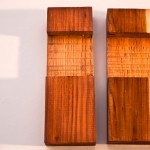 This joint, which is mostly used for light frames that are going to be covered with plywood or hardboard, is one of the easiest joints to assemble. It requires dividing each of the boards that are going to be joined in half and then fastening them together with glue and nails or screws. The end grain of one of the pieces will show on one of the sides. Half-lap joints are stronger than butt joints but weaker than other kinds of joints. In spite of this drawback, many people still use this kind of joint in projects such as making a fence.
Miter joint
Unlike other kinds of joints, miter joints do not show any end grains. However, they are not very strong and are also difficult to construct. A finished miter joint should have a 90° angle so the pieces of wood to be adjoined will be cut in a perfect 45° angle. Glue should always be used to adjoin miter joints but nails, screws, a biscuit, or a spline can be used alongside glue to strengthen the bond. Special clamps are also almost always used to connect miter joints. Miter joints are usually used for picture frames.
Tongue & Groove Joint
Two pieces of wood can be joined together by simply nailing or gluing two edges together. This, however, is a very weak way of creating a joint. The tongue and groove joint, which has more adjoining areas, is a much stronger way of doing it. This type of wood joint is also stronger than the half-lap joint but is more difficult to construct. Unlike other kinds of joints where nails and screws are needed for extra strength, glue is enough to make tongue and groove joints. This joint is typically used for shelves or drawer supports.
Dado joint
A dado is a joint where a board can perfectly fit in another board. Like the tongue and groove joint, this joint is stronger than the half-lap joint and is typically used for building shelves and cabinetry. It is also better looking because you can easily hide the finishing nails used to join the pieces together. In fact, there are certain instances where you don't need any additional fasteners; hardware or glue is enough to hold the joint in place. A dado joint can be made with a dado blade or with a straight bit in a router.
Mortise & Tenon Joint
A mortise and tenon joint, which is elegant and very strong, has been used for a very long time already. However, it is not very easy to make. Finess and accuracy is very important when making this kind of joint. Although some may see it as simply connecting a square peg and a square hole, it is important to make sure that the tenon's width is at least a third of the wood's thickness and that the mortise is made before the wood is rebated. Mortise and tenon joints are mostly used in making furniture and in connecting table or chair rings to legs.
Dovetail joint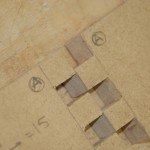 The dovetail joint is a neat interlocking joint, which makes it the strongest of all the joints. However, it is also more difficult to construct. A good dovetail joint can only be done with a lot of practice. There are four kinds of dovetails: lapped, open, running and blind. All of these are typically used in the construction of boxes and drawers. Drawer sides and fronts often make use of lapped or running dovetails, as these strong joints only show one side of the end wood. For best results, use a router when cutting the wood to be used in these kinds of joints.
Listed above are just some of the many different types of wood joints known to man. It is important to learn the differences between each so you know what joint to use when fixing old wooden furniture.