Wicker or woven furniture, often used outdoors, is very light, durable, resilient, and easy to maintain. However, precisely because it is constantly exposed to elements like changing temperature, it may need to be repaired every now and then. Fortunately, it is not that hard to repair outdoor furniture so we can actually repair wicker furniture ourselves if the damage is minor.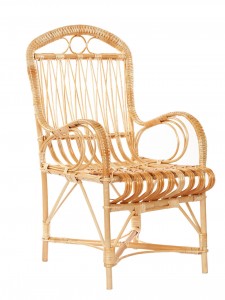 First Step
The first thing to do to repair wicker furniture is to determine what needs repairing. If the problem is something as simple as loose strands, lightly rub sandpaper on the surface and apply varnish for a smooth finish. If there is loose wrapping on the legs, simply apply glue under the end of the loose wrapping and tack the end of a new reed into it. Wrap the new reed around the leg and glue it where it ends. Secure it with a tack and cut off the excess reed.
Repairing Cracks
Cracking is a common problem in wicker furniture when they are old or when they become dry. If this happens, it is best to keep the cracks from getting worse instead of replacing the parts. To do this, apply tung oil or boiled linseed oil with a brush and let it dry for at least 24 hours. Make sure that the oil is fully absorbed by the reed. This will replenish and harden the material used for your furniture. If there is excess, wipe it off and wait for the furniture to dry completely. Just take note that linseed oil and tung oil are combustible so keep it and any material you soaked with it away from heat.
Dealing with Misplaced Weaves
Wandering and misplaced weaves are also a common problem. This happens when the furniture is old or when it was used while wet. If this is the problem, just soak the area with rags until the reed can be moved to where it's supposed to be. Let it dry for at least a day before using it again. This remedy is easy if the rattan is bare. If not, you may need to strip the area first.
If your wicker furniture has a hole or if there is an area that needs replacing, you will need to buy rattan reed to fix it. Soak the reed for 30-45 minutes before working with it and make sure that you follow the weaving pattern of your furniture in order to keep it looking new. It is helpful to take pictures or draw diagrams of the pattern before you try to fix it. It is also best to do a small area first, weaving the reed one at a time.
If the problem is the frame joint, it is best not to remove the weaves since they are still pretty sturdy. If the frame is made of wood and the joints are touching each other, the best option is to glue them using a glue injector, which can be found in hardware stores. If the joints are too far apart to be glued, you can clam them with a rope. However, make sure that you don't twist the rope too tight so that you don't do more damage to the furniture. Also, put cloth in between the rope and the corners of the weave so as not to damage any wicker. Lo-root screws are also very helpful in holding your wicker furniture. If the frame is very wobbly and you don't think it's sturdy enough even after you have done all these, you can always bring your furniture to professionals who know how to repair outdoor furniture.
Finishing Touches After the Repair
After repairing your wicker furniture, always spray-paint the areas you repaired so that it matches the whole piece. If the furniture is used outdoors, it is best to use an exterior-enamel spray so that it won't break easily. For more information about refinishing wicker furniture please visit our earlier blog post.
You don't have to spend a lot to repair wicker furniture. In fact, most of the remedies can be done at home, using inexpensive materials. However, in the unfortunate event that your furniture gets excessively damaged, it is usually better to bring it to professionals who can repair outdoor furniture.